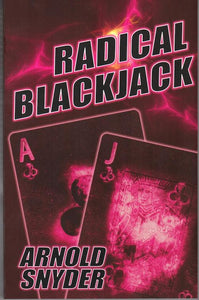 Radical Blackjack
Regular price $37.95 Sale
Most blackjack books focus on basic strategy, card counting, and other considerations for improving results or deriving an edge at the game. Arnold Snyder, one of the original seven blackjack Hall of Fame inductees has already written those books.
In Radical Blackjack, Arnold Synder focuses in more detail than has ever been done before on the highly advanced techniques employed by the most successful black players of all time. Shuffle tracking, Hall cording, edge sorting, camouflage, compartment, team and partner play, and the most comprehensive treatment of loss rebates ever presented.
Interwoven throughout our behind-the-scenes views of many of the worlds most successful gamblers, along with secrets behind some of the most famous gambling stories in history. Along the way, Schneider identifies dozens of books, interviews, and articles that expound further on these players and the powerful advantage play techniques they employ.
If you're serious about upping your gambling IQ, Radical Blackjack will elevate you into rarefied air that's breathe only by exclusive fraternity of elite blackjack professionals.