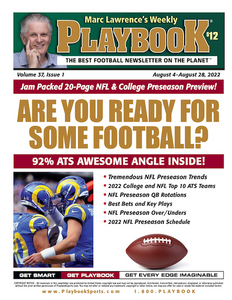 Marc Lawrence's Playbook Weekly Newsletter
Regular price $10.00 $12.00 Sale
2023  FOOTBALL SEASON  
Newsletter will not be sent out until after 3 PM Wednesdays PST.

***** Please Provide Email for Newsletter*****
Welcome to the 2022 Weekly edition of the Playbook Football & Basketball Newsletter. Whether you are a football or basketball fundamentalist, a technical buff or a stats lover, we have it all for you under one cover in the Playbook, where each week we help you get every edge imaginable!
In each issue Marc will share with you a personal  handicapping article  an insider's approach to the art of football & basketball handicapping. Along with Best Bets, Awesome Angles, Tremendous Trends and Over/Under Records, a complete schedule featuring opening lines, we've got you covered. Also, be sure to check 2-Minute Handicap featuring a quick-read into key stats and trends on the weekly football card – plus the Incredible Stat Of the Week. It's no wonder whenever the Wise Guys in Vegas speak of Playbook, they say it's "Where The Smart Money Is."
 ***** Please Provide Email for Newsletter*****
Football Handicapping
College & Pro Match-ups
Marc Lawrence

Released Wednesday Evening
Make sure E-mail is provided .